Where I can start from?
We were more than 70000, and some for getting in the so called "heart"
(the part in front the stage and within two catwalks composing an heart shape
which the band would have used later in the gig, getting
into the crowd , visibly ecstatic for it)slept almost two days
out of the stadium
and think that the first day of waiting it was raining heavily
You could call them mad but for understanding how beautiful the
waiting was for them , and how cute and warm all of us were feeling
even if under sun for hours,
you should be aware that in Italy U2 are not just a massive band, beloved
as hell like all around the rest of the world (and so logically here as well) but they are
indeed considered as one of OUR bands and artists for the total love and
respect and knowledge a massive section of the population have got of
them.
We were among people from 15 to 60 years (no kidding... beside us it was
a father of a teenager of apparently 17 years enjoying the gig and the
atmosphere even more than her) and we waited singing and talking (also
about the troubles happening in Genova for the G8) but the main thing
was that everyone was feeling like attending a longtime friend party of
welcomening back. We were not even asking IF the gig would have been good
or not... We were just there for seeing them again.
Me and the friends were among French guys and girls and one of them was
"new" to U2, since she got into them at Pop era when she was 23.
"I of course knew them as I think everyone does in the world, but
I was never feeling so attracted to buy all the albums, until I heard
Staring At the Sun...that song was made for me and it was like falling in love
and now I have all their albums, I don't owe any single but I have
all the albums and I am so glad to be here.."
She told us in a mervellous Paris accent.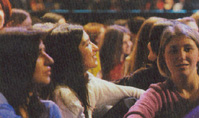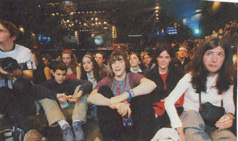 All around there were people wearing the Elevation shirt, they all had a black bandana
and the gadgets of the band.
I was wearing instead the Pop Mart Tour shirt I had in Reggio Emilia in 97
and a badge I got at my first u2 gig ever, on the Zooropa tour.
Like me more or less were Ila and the Vale and Elisa and Cristina,
and all had such a great time over the pitch
seeing the stadium fulfillig itself for the event, eating chocolate melted down for the sun
and remembering how it was for us to share a life with U2 songs.
The weather was so fine and it was really well organized, we felt really home
there :)

As soon as we entered, we forgot the long night trip and the sleeping in the car outside Turin
(we weren't able to book the hotel for the Friday, we got it just for Saturday..) and we forgot we
risked to get lost in the wrong side of town in the morning taking the bus in the opposite direction;
we were there and we were feeling part of a blessed crowd, we felt that we like U2 not just for the
music but cos they can make you think as well (even if I am not exactly for rockstars getting political)
and we felt that beside our critic side which makes us hate POP as hell, we still believe them and we
always did and we always will cos they are part of us, they made us love rock and not just
as a genre of music and we felt for the rest of our lives Mr Paul and his combo are gonna be our
friends.
Wherever they will play in Italy and abroad, even when we won't be able to get there,
we will be in the middle of the people hymning at them singing their songs.
Always.
And anyway.