As you will notice, a great espace is for the latest songs
of the album of the past October; some of them like New York
though were so much better than in the album thanx to a new arrangement
(I didn't recognize the song until it was started from almost a
a minute.. ).
The most beautiful bunch of them though was in the final section of the
gig,when in the row you had got the chance to hear With or Without You
(and the whole stadium was a flame then), One and the amazing Walk On before
the timeless Pride apparently was closing it all.
BUt U2 are too used to be rockstars keen at the crwod for avoiding a
little surprise more.
It was ages i didn't know a song at a gig... they made me wonder instead
over Out of Control: when they were playing it I was almost new in this world...
It's amazing I've grown up with them as constant soundtrack like this.
Thanx to U and to all the love you four have brought in my Country for more
than 20 years :)
Enjoy the setlist...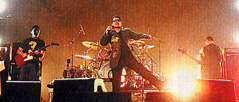 1) Elevation
2) Beautiful Day
3) Until the end of the world
4) New Years Day
5) Kite
6) Gone
7) New York
8) I will follow
9) Sunday Bloody Sunday
10) Stuck in a moment
11) In a little while
12) Desire/Gloria
13) Stay
14) Bad
15) Where the streets have no name
16) Mysterious way
17) The fly
18) Bullet the blue sky
19) With or without you
20) One
21) Walk on
22) Wake up deadman
23) Pride
+ the encore "Out of Control" their first ever single