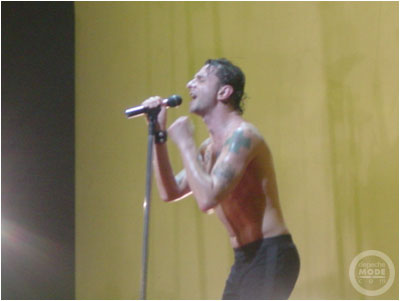 I have always been a fan of Dave's band, from my early days of music lover, when walking down in Paris for getting to elementary school I was listening to their tapes (resulting to all my kid friends really really like a freak ).

Thanx to them , my main background is made by electro beats and synth pop/rock, which makes me now fall in love with bands like, just for saying a couple of names, Daft Punk exactly as much as Hooverphonic, Air and Saint Germain.
But nothing can be quite as good as the old Depeche Mode.
This gig, dated 24th of October, in Milan, has been just a trippy experience you don't have to take any drug to live.
Next time they'll be around next to you, just buy that damn ticket, and go listen to them.
Exciter, they are the exciter.
Word of mouth,

Luc Brisaille
14000 sent into a frenzy,
Milan, 24th of October 2001
The first thing I noticed was obviously the massive amount of people there.
The immediatly subsequent one, their age, mainly my own one, like kids today can't really appreciate refined pop now that they are taken or in the bubblegum shit, or in the heartless darkness of nu-metal, or in a kind of dance music which lets you feel like frozen.

Depeche Mode are diverse: their electro pop, or electro rock, is all but freezing, it warms you indeed.

When they come onstage, over the intro constituted by Dream On (shortened), we are all in delirium, we feel that they are, as usual, absolutely breathtaking live.
Dave is in a sparkling form, he just can't stop himself jumping , running, waving his hands for making us feel part of the show.
And we feel, cos we are in love with them from a life it seems, and all words, all songs, are within us.
Depeche MOde, and this is a furthermore confirmation, have not only great tunes musically, but they express their best in writing ace lyrics.
Now that I am 25, I can say all that I have always found true in lovelife and relationships was already be sung by Gahan, and when he sings it tonight, my body shivers.

The stage is really minimalistic, like you can say, Dire Straits in their video tapes, but scenic magics really don't matter, we are here for the pleasure of listening.
There are lots of light tricks going around, and it's pleasant to get embraced by green, velvet, blue and red time after time.
The core of the sets is made by all new songs, with some taken by the amazing Ultra (Exciter is not valid as that one has been, but live it gains that overvalue which makes many of us re-evaluate all songs).
After all, if they would be forced all time to perform onstage all their best material from 1981, well, all the gigs would last like four hours or something!
This gig will last just half of that time, but two hours so full, no one will have the minimum of complains at the end.
Songs like "Walkin In My Dhoes", "Black Celebration" or "Dead of Night" have in themselves such a rage, an evilish appeal, a roughness that the nu-metal bands so hip nowadays just dream to have, but which they will never come to obtain.
At the third song, Gahan is already half naked, and he's still have the so-called (let me use French here) "physique du role".
Martin Gore and Andy Fletcher are as great in capturing us with their masterful variations which shed over the crowd a powerful synth carpet, that still anyway just a part of the sound from a band which is essentially a rock band.
Hypnotized like in a circle for a dance sabbath, we have flown away with Enjoy the Silence and I Feel You, before amaze us with a screen which was showing while they were performing In Your Room a goldfish caged in the same pool with a big shark.