I would need an immense space for just even start to make ou all understand who's this incredible guy.
I won't even try, cos I would never be able to ake justice to him.

He's a pure, strong, sensitive, greatly intelligent diamond living in Brazil, who doesn't like football and not even Carnival and Samba, but who's as warm and briliant as the caribbean Sea and Sun and as the Rain Forest and I would really make anything for being able to meet him one day.

Why?
Well, I am gonna post here his lyrics... and if you would like, I have some MP3 of his songs.. ask em for it, and you'll have a wonderful melody sourround you all time.

You'll agree it was more than worthing, believe.

In my Lyric's Page in My site, the Lyrics for "The Letter" are dedicated to him.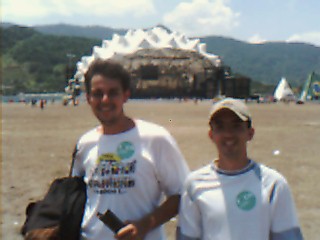 his lyrics :

Lost Self

I don't know exactly how I am
Sometimes I'm happy and sometimes I cry
On the corners, nowhere to go
I feel it silently, it hurts being alone

I don't see the sun rise nor the moon hide
I'm always wrong, I'm always right
I always get what I want but I can't get anything
Always happy, I share this joy with someone else

I don't need to hear "good morning"
Sometimes I'd rather pray, God help me
I don't know, I don't care, I just ask
(bridge)
No need to have a warning sign
I can feel all these things getting out of my mind
But I know they will be back as soon as I succeed

I find it hard to find myself
Should I look after me? (chorus)
One day, who knows, I will
make it all so clean

I think it's so amusing
when I feel the sun light shining through
but I know I can get no relief
for the pain that burns inside of me

(bridge + solo)

(chorus to end)

2000 - written by Daniel G. (inspired on Nathy's poetry)